APRA: a family-friendly employer
At APRA we understand that it is important for our employees to thrive both at work and at home. To encourage this, our practices and policies offer great benefits and flexibility, and give a clear example of how our culture supports working families.
For Mike Cornwell, a leader in our Superannuation Division, this has meant he was able to take paid parental leave and be, as he puts it, "more than just the beginning and the end of the day parent."
As Mike explained: "From a work perspective I was really well supported – this was something that APRA encouraged me to do."
In addition to offering both 14 weeks parental leave to all parents within the first two years of a child being born or placed into their family, and our increasingly popular flexible work hours, Mike felt it was just as important that "the encouragement of the management team" showed APRA was genuinely committed to putting our policies into practice.
Findings from the recently published 2019 National Working Families Survey by APRA's partner organisation Parents At Work give a wider context to our initiatives.
Sample data from their survey of more than 6000 parents and carers paints a striking picture:
Parents and carers were asked what support they wanted, and 44% responded "having more control over when or where they work, with flexibility being key"
57% of fathers and one third of mothers reported that their parental leave is "too short"
62% of parents and carers said their most challenging issue was looking after their personal, physical and mental wellbeing.
To help parents manage their work and family care demands, since 2018 we've offered employees taking parental leave the option to attend coaching sessions with Parents At Work before, during or after taking their leave. These sessions are designed to help parents and carers find the balance in work and family responsibilities.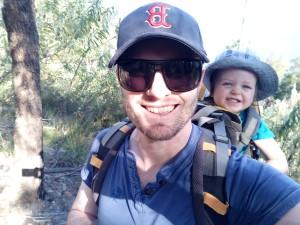 Asked if he had any advice for parents-to-be, Mike answered: "When you're considering having a family or you need to take on caring responsibilities beyond children, it's really important that you work in a supportive workplace, not just for your own wellbeing, but also for your ability to contribute fully at work – that's been one of the core reasons that I've been at APRA for nine years."
"Without the policy you can't do it, but if the organisation is not really supportive of it you also can't do it. APRA has got both and that's the key. I'm proud to have taken the time off and I'm proud to work for an organisation that supports me throughout. "