APRA's commitment to inclusion and diversity
At APRA, we aspire to fully harness the skills, experiences, ingenuity and wisdom of our employees, whatever their background or personal circumstances. We believe our focus on inclusion and diversity will deliver benefits for individual employees, teams and our entire organisation. Our vision for inclusion: I contribute to an inclusive workplace where everyone belongs, is valued and is respected. Together we deliver great outcomes for the Australian Community. We are stronger together.
Harnessing diversity of thought at APRA
APRA actively seeks to attract, develop and retain employees and leaders from across the full spectrum of the Australian community. We believe diversity encompasses more than our visible differences, such as age, gender, ethnicity and physical abilities, or unseen differences such as religion or sexual orientation. We aspire to foster diversity of thought, recognising that a broad range of perspectives, approaches and ideas makes us stronger, improve our judgements, and better enable to meet our obligation to protect the financial well-being of the Australian community.
Giving all employees a sense of belonging
We want everyone at APRA to feel safe, respected and valued, and trust they can confidently speak up and be heard. We encourage our employees to express themselves, challenge conventional wisdom and seek assistance or guidance when they need it. And we provide our leaders with the skills and awareness to foster an inclusive workplace culture.
Inclusion and Diversity Strategy 2021-25
Our refreshed Inclusion and Diversity Strategy acknowledges both the need to:
Build momentum across our existing I&D focus areas. These are areas where we need to leverage foundations laid by existing networks including Culturally and Linguistically Diverse (CALD), Aboriginal and Torres Strait Islander (ATSI), Lesbian, Gay, Bisexual, Trans and Gender diverse, Intersex and Queer (LGBTIQ+), accessibility (RISE), different generations (GenX+ and GenDelta), and Gender inclusion (40/40/20); and

Identify areas of enhanced focus that intersect all networks: Accessibility, Age diversity, Diversifying our talent, and Data and demographics.
The I&D strategy is a key component of how we deliver our corporate strategy. APRA is committed to delivering a modern and flexible working environment to support organisation empowerment and excellence. This includes hybrid ways of working and providing an inclusive and diverse workplace.
APRA's Inclusion and Diversity Council (IDC) monitors our progress for meeting key objectives of our strategy and champions the need for further strides where necessary. Under the IDC, APRA has an active program of events and opportunities to increase awareness and understanding across our existing networks.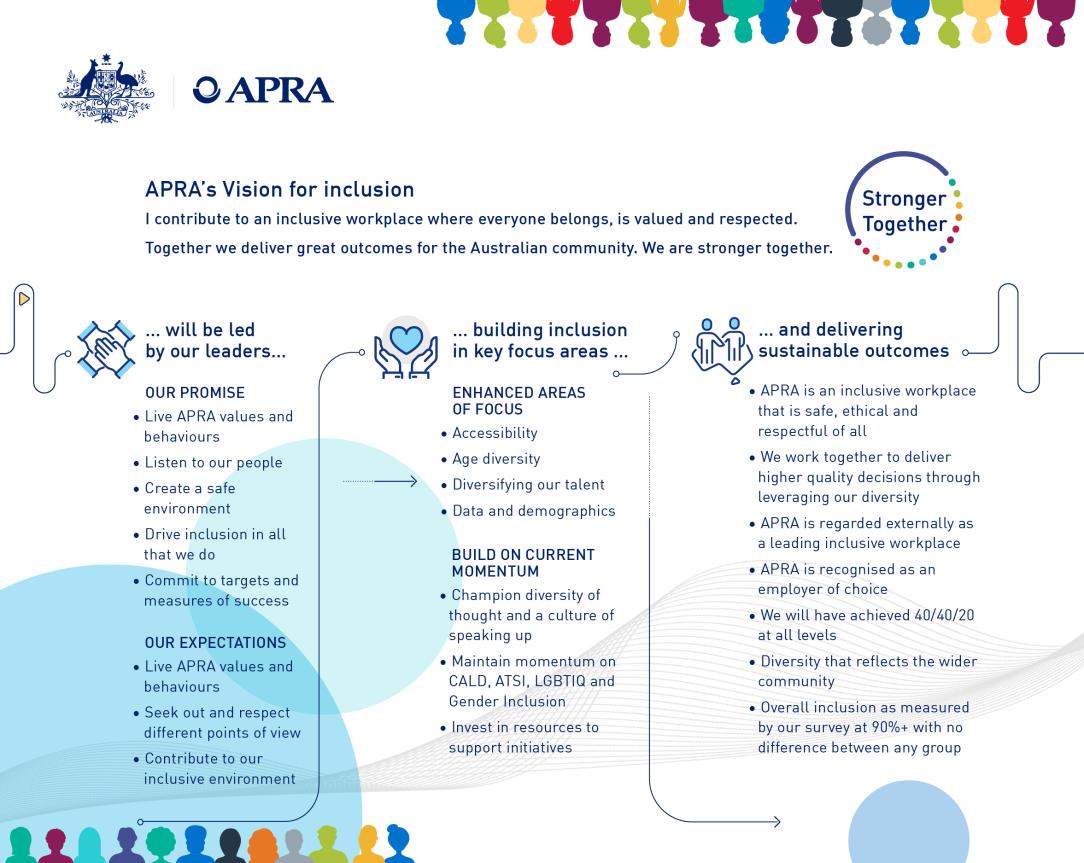 Alt text for the infographic is available here.