APRA's organisation structure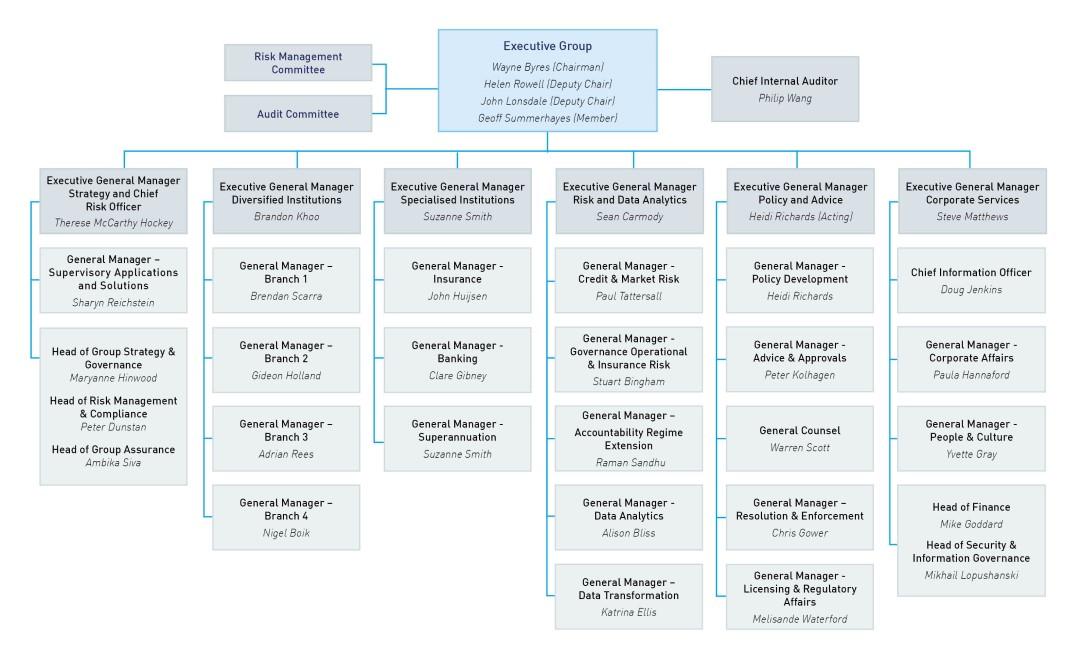 APRA organisation structure
The APRA Executive Group consists of
Wayne Byres, Chairman
Helen Rowell, Deputy Chair
John Lonsdale, Deputy Chair
Geoff Summerhayes, Member
The Risk Management Committee, the Audit Committee and the Chief Internal Auditor – report directly to the Executive Group. The Chief Internal Auditor is Philip Wang. 
Six Executive General Managers report to the Executive Group. The Executive Managers and the management teams that report to them are:
Executive General Manager, Strategy and Chief Risk Officer, Therese McCarthy Hockey
General Manager Supervisory Applications and Solutions, Sharyn Reichstein
Head of Group Strategy and Governance, Maryanne Hinwood
Head of Risk Management and Compliance, Peter Dunstan 
Head of Group Assurance, Ambika Siva
Executive General Manager Diversified Institutions, Brandon Khoo
General Manager Branch 1, Brendan Scarra
General Manager Branch 2, Gideon Holland
General Manager Branch 3, Adrian Rees
General Manager Branch 4, Nigel Boik
Executive General Manager, Specialised Institutions, Suzanne Smith
General Manager Insurance, John Huijsen
General Manager Banking, Clare Gibney
General Manager Superannuation, Suzanne Smith
Executive General Manager Risk and Data Analytics, Sean Carmody
General Manager Credit and Market Risk, Paul Tattersall
General Manager Governance Operational and Insurance Risk, Stuart Bingham
General Manager Data Analytics, Alison Bliss
General Manager Data Transformation, Katrina Ellis
Executive General Manager Policy and Advice, Heidi Richards (Acting)
General Manager Policy Development, Heidi Richards
General Manager Advice and Approvals, Peter Kohlhagen 
General Counsel, Warren Scott
General Manager Resolution and Enforcement, Chris Gower
General Manager Licensing and Regulatory Affairs, Melisande Waterford
Executive General Manager Corporate Services, Steve Matthews
Chief Information Officer, Doug Jenkins
General Manager Corporate Affairs, Paula Hannaford
General Manager People and Culture, Yvette Gray
Head of Finance, Mike Goddard
Head of Security and Information Governances, Mikhail Lopushanski
Divisions of APRA
APRA is organised into the following six divisions and one independent internal team:
Specialised Institutions Division
Diversified Institutions Division
Policy and Advice Division
Risk and Data Analytics Division
Corporate Services Division
Enterprise Performance Division
Internal audit team.
APRA's frontline divisions are the Specialised Institutions and Diversified Institutions divisions (SID and DID). Frontline supervisors focus on financial and risk analysis as the primary part of their supervision function. This involves offsite analysis of data and information, regular contact with the supervised institutions as well as a continual program of onsite reviews.
The Specialised Institutions Division is responsible for the supervision of licensed entities including regional banks, credit unions, building societies, friendly societies, insurers and superannuation funds.
The Diversified Institutions Division is responsible for the prudential supervision of functionally diversified financial institutions. These include large financial conglomerates, banks, insurance companies and superannuation firms.
The Policy and Advice Division ensures that APRA's frontline supervisors have the best possible tools to support them in their risk analysis and supervisory interventions. This division consists of Legal Services, Policy Development, Advice and Approvals, Resolution and Enforcement, and Licensing.
The Risk and Data Analytics Division brings together specialists in statistics, industry analysis and risk to provide expertise in risk assessment, assisting frontline to supervise individual entities and industries as a whole. This division consists of Credit and Market Risk, Governance, Insurance and Operational Risk, and Data Analytics functions.
Corporate Services Division provides corporate shared services functions that assist other divisions in achieving APRA's strategic objectives. The division is made up of our People and Culture, Information Technology, Corporate Affairs, Information Security and Governance, FInance and Facilities groups.
The Enterprise Performance Division promotes APRA's effectiveness through a range of functions including risk management, strategy and performance, quality assurance, business continuity and fraud control.
The Internal Audit team advises on managing risk across all of APRA, with an independent reporting line to the Audit Committee and direct access to the APRA Members and Executive Board.