APRA publishes first fund-level data on superannuation early release scheme
The Australian Prudential Regulation Authority's (APRA's) latest data on the temporary early release of superannuation scheme has found trustees are processing 96 per cent of payments within five business days.
APRA's second weekly publication of industry-level data from its Early Release Initiative (ERI) data collection showed that, as of 3 May, superannuation funds had issued early release payments to 830,000 members worth a total of $6.3 billion. The average payment was $7,629 and the average payment processing time was 3.1 days after receiving the application from the Australian Tax Office (ATO).
In addition to industry-level data, APRA has today published the first fund-level statistics from its ERI data collection, revealing the number and value of the payments processed by each fund, as well as the time taken to make payments.
The fund level data shows that of the 142 funds to make payments, 117 (82 per cent) have made more than 90 per cent of payments within the five business days guideline indicated by APRA. That includes 57 funds that made all payments within five business days, 24 that paid 99 per cent within that timeframe, and another 18 funds that paid 98 per cent within five business days. Further, with very few exceptions, all payments have been made within 10 business days of receipt of applications from the ATO.
Under the Superannuation Industry (Supervision) Act 1993, superannuation trustees are legally obliged to make early release payments to eligible beneficiaries "as soon as practicable".
APRA Deputy Chair Helen Rowell said: "These figures demonstrate superannuation trustees understand the importance of getting payments as quickly as possible to members who may be enduring financial hardship.
"This is a new scheme, and some funds have received tens of thousands of applications, so an average payment time so far of 3.1 days following receipt of applications from the ATO is a positive story. 
"We recognise, however, that it may be both necessary and appropriate for trustees to take longer in some cases. This is no doubt frustrating to those awaiting payments, but the recent attempted fraud being investigated by the Australian Federal Police emphasises that care is needed to ensure payments go to the right people," Mrs Rowell said.
In addition to concerns about possible fraud, other reasons that payments may take longer than five business days include: 
incomplete information provided by the ATO; 
application errors by members that require clarification;
verification of mismatches between member information provided by the ATO and that held by the fund; and  
defined benefits members whose applications require additional processing.
To help increase public awareness of the timeframes associated with the temporary early release scheme, APRA has developed an infographic to share through its social media channels (see below).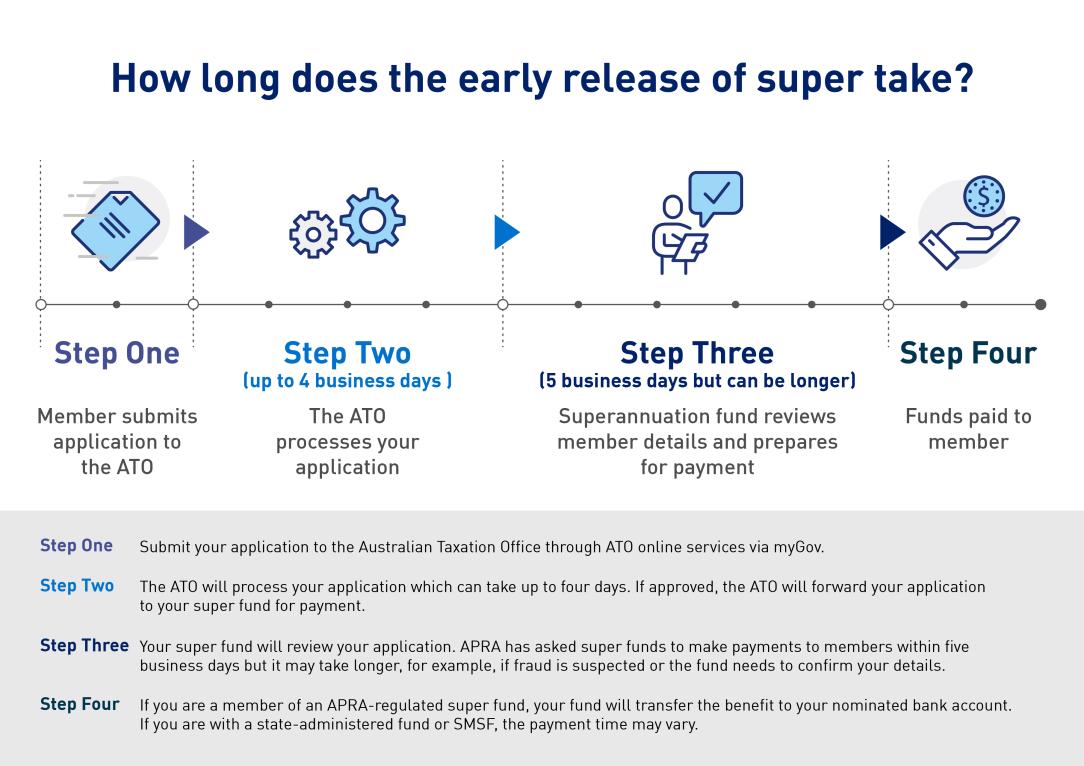 "Although delays will occasionally occur, APRA expects trustees to make all payments as soon as practicable, and we are monitoring closely to ensure that remains the case," Mrs Rowell said.
The latest ERI statistics are available on the APRA website at: COVID-19 Early Release Scheme.
Media enquiries

Contact APRA Media Unit, on +61 2 9210 3636

All other enquiries

For more information contact APRA on 1300 558 849.
The Australian Prudential Regulation Authority (APRA) is the prudential regulator of the financial services industry. It oversees banks, credit unions, building societies, general insurance and reinsurance companies, life insurance, private health insurers, friendly societies, and most members of the superannuation industry. APRA currently supervises institutions holding $8.6 trillion in assets for Australian depositors, policyholders and superannuation fund members.