Data find: Number of APRA-regulated superannuation funds from 2008 to 2018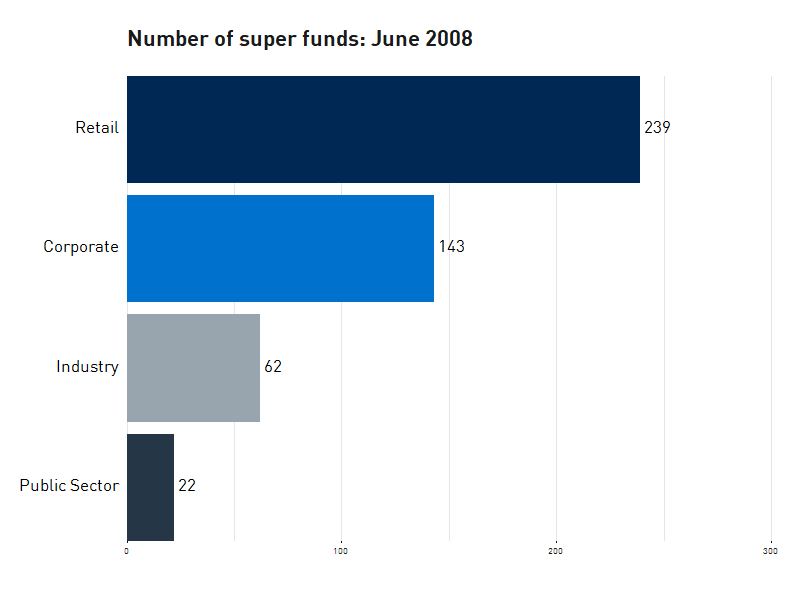 What does the data show? 
APRA's data shows that from 2008 to 2018 there was a significant reduction in the number of APRA-regulated superannuation funds (with four or more members). The population of corporate superannuation funds shrunk the most over the decade from 143 to 24. Retail superannuation funds remain the most common type of funds regulated by APRA with 118 funds. Whilst there has been a decrease in the number of industry funds, they overtook corporate funds during this period and are the second most common type of fund in 2018 with 38 industry funds to 24 corporate funds.  
APRA Deputy Chair Helen Rowell spoke earlier this year at an industry conference about what has led to the consolidation. 
In her speech Mrs Rowell said that "a major driver of that consolidation has been the introduction of APRA's prudential framework for superannuation in 2013 and our ongoing efforts to keep lifting the bar that trustees need to clear, so that all trustees are better positioned to deliver quality outcomes for members. Over this period, many trustees have come to accept that they cannot meet these higher expectations and have passed the trusteeship of their funds over to those better equipped to do so". 
We expect this trend of consolidation to continue as part of APRA's focus on promoting better outcomes and addressing underperformance in superannuation funds. 
Find out more
APRA Chair Wayne Byres referenced this data as part of giving his opening statement to Senate Estimates in February 2019. You can find more information on the overall performance of the Australian superannuation system in APRA's Annual Superannuation Bulletin (Data for public sector funds in the Annual Superannuation Bulletin include Exempt Public Sector Superannuation Schemes which are not regulated by APRA (at 19 June 2018)).
This article was first published in APRA Insight - Issue 1 2019.