APRA's international agenda
APRA's primary focus and activities are domestic, given its important role in protecting the financial interests of the Australian community. However, APRA is also part of the global regulatory community and, to do its job well, must engage with international peers on a regular basis.
APRA's international activities provide important benefits, including strengthening relationships with other regulators, facilitating information exchange, contributing to the policy work of global standard-setting bodies, and providing cost-effective and valued technical assistance in the Asia-Pacific region. These activities also provide APRA staff with development benefits in deepening skills and experience through dealing with other regulators and representing APRA internationally. This work, while carefully balanced against core business priorities and financial considerations, provides the opportunity to enhance APRA's reputation as an open and responsive prudential regulator.
Supervision outreach
Many of the Australian financial institutions regulated by APRA are part of larger conglomerate groups that have a significant global footprint. In supervising these entities, APRA must ensure it maintains regular contact with key peer regulators to share views and information that will enhance its understanding of risk profiles, including capital support, contagion and counterparty risk.
Memoranda of Understanding
The exchange of information is facilitated through agreed arrangements, with the most common form being a Memorandum of Understanding (MoU). These MoUs are predominantly used where there are material cross-border operations and provide a framework of intent for exchange of information, policy dialogue and technical cooperation. [1]
Supervisory colleges
Supervisory colleges play an important role in APRA's supervision of cross-border institutions. A supervisory college brings together the supervisors of global entities on a periodic basis and is usually hosted by the supervision agency in the jurisdiction where the ultimate parent company is domiciled. The objective of supervisory colleges is to promote effective coordination, collaboration and information-sharing between relevant supervisors. This includes identifying and agreeing on the cross-border institution's risk profile and vulnerabilities, and providing supervisors with a holistic perspective on the institution's operations to better support them in addressing the key issues within their own jurisdictions.
Financial Sector Assessment Process
In 2018, Australia has been subject to an objective and diagnostic assessment of financial stability and associated regulatory oversight via the Financial Sector Assessment Program (FSAP), which is conducted by the International Monetary Fund (IMF). The FSAP is typically conducted every five years for G20 countries. Australia is undergoing its third FSAP in 2018, with previous FSAPs conducted in 2006 and 2012. FSAPs examine a country's financial sector in depth, including focusing on the sector's safety and stability, the quality of financial regulation and supervision and supervisors' ability to intervene effectively in a financial crisis. It is a tool used by the IMF to enhance international financial stability through fostering greater compliance with internationally agreed standards. In particular, APRA's financial oversight has been subject to a comprehensive and in-depth assessment against globally accepted international principles with respect to banking and insurance regulatory oversight, financial safety nets (crisis management), systemic risk oversight as well as macro-prudential policies and tools. The IMF assessment provides an independent, external assessment of APRA's prudential and supervisory framework and practices, and highlights potential gaps and areas for improvement. The reports arising from the 2018 Australian FSAP are expected to be published by the IMF in early 2019.
Visits from overseas regulators
APRA hosts numerous overseas delegations each year, including foreign regulators, government officials, industry associations, commercial entities and other private parties. This year APRA hosted 37 international delegations from 17 countries; most commonly from South Korea and Indonesia, with over a third from developing nations. Over two-thirds of the visits were for information exchange purposes, primarily to learn about APRA's supervision processes and procedures, as shown in chart 1.
Chart 1: Inbound delegation visits – by purpose of visit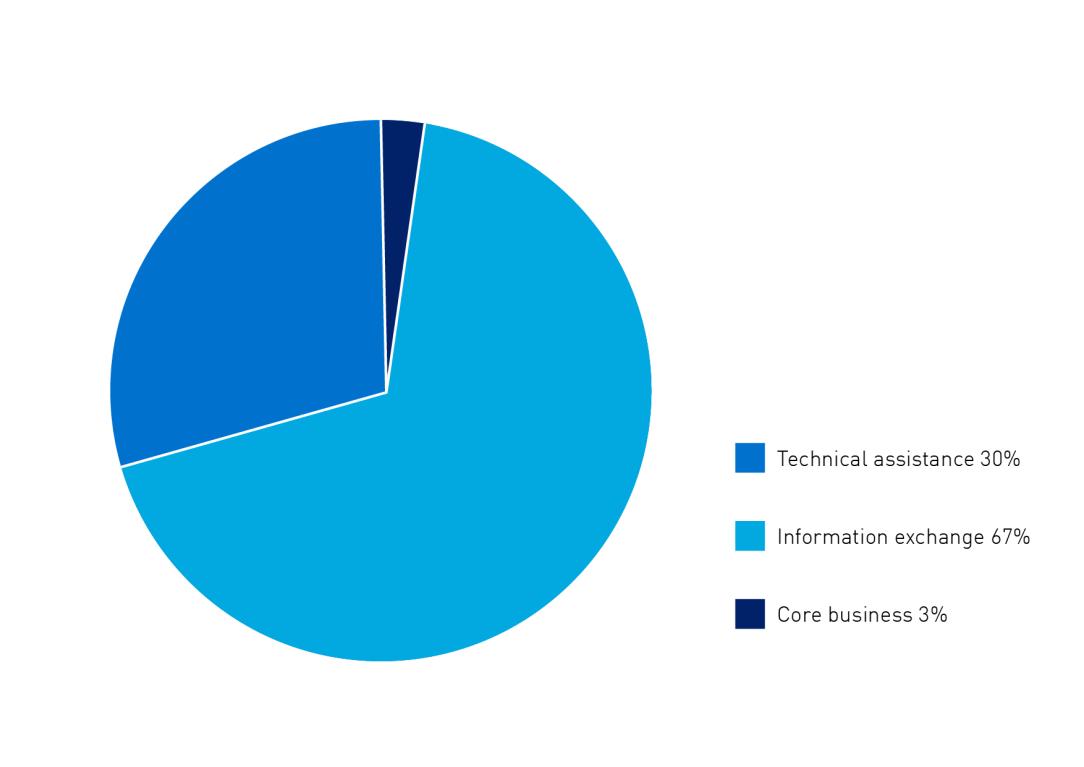 Policy development
APRA engages with international agencies and is an active participant in global standard-setting bodies to ensure relevant characteristics of the Australian financial system are taken into account as international standards evolve (e.g. the Basel Committee on Banking Supervision, Financial Stability Board, International Association of Insurance Supervisors and the International Organisation of Pension Supervisors). These agencies provide forums for APRA to regularly participate on banking, insurance and pension (superannuation) supervisory and regulatory matters. These interactions are essential to ensure that APRA's prudential framework is aligned with global requirements and better practices. Australia's prudential framework has high standing globally, and APRA's international liaison activities give Australia a strong voice in global policy reform.
Training assistance and enquiries
APRA also plays its part in assisting other regulatory agencies to enhance their own supervisory and regulatory frameworks. One of the primary ways of doing this is through technical assistance activities, primarily in the Asia-Pacific region. These targeted activities support whole-of-Government initiatives that seek to improve governance, build the capacity of regional prudential supervisors and develop valuable partnerships with the countries involved.
APRA's technical assistance activities in the region began in the Pacific in 2004 and in Indonesia in 2005, and are funded by the Department of Foreign Affairs and Trade (DFAT).
Indonesia
APRA has two technical assistance programs with Indonesia – one with Bank Indonesia and the second with the Indonesian financial services authority, Otoritas Jasa Keuangan (OJK).
APRA hosts secondees from Indonesia who travel to Australia to join supervision, specialist and data analytics teams and learn about APRA's supervision methodologies. APRA also hosts workshops for Indonesian officials in Australia and provides presentations at conferences hosted in Indonesia, to enhance knowledge and skills in risk-based supervision techniques.
Since the programs began, APRA has hosted 79 secondments and 149 Indonesian officials at 35 high level workshop visits at APRA.
The Pacific
APRA's technical assistance program in the Pacific region consisted of secondments in Australia, and up to five two-week training on-sites per year, to develop techniques and experience in on-site supervision in country in the Pacific. This program ended on 30 June this year, and APRA is now liaising with DFAT to investigate the possibility of securing funding to continue this Pacific-based technical assistance.
Since the program began, 64 training on-sites were completed in the Pacific, with 534 Pacific participants, and 35 secondments at APRA.
Other training
APRA supports the training activities of various multilateral organisations (e.g. the Financial Stability Institute, World Bank, IMF, Pacific Financial Technical Assistance Centre, South East Asian Central Banks Research and Training Centre), by providing speakers at conferences and seminars. APRA also provides specialists to participate in the technical assistance missions of the World Bank and the IMF.
Summary of 2018 activities and enquiries
Outbound travel
The following chart shows the outbound travel APRA has undertaken to support its various international engagement activities. This year APRA staff undertook 111 international visits, with two-thirds of the visits relating to APRA's core business functions of supervision, policy and resolution.
Chart 2: Summary of 2018 outbound activities – by purpose of travel
Enquiries
The chart below shows the range of enquiries APRA receives from multilateral organisations, foreign regulators, other government officials and private parties. The majority of enquiries relate to APRA's policies and processes and fit and proper requests from foreign regulators.
This year APRA received 152 international enquiries.
Chart 3: International enquiries – by subject of request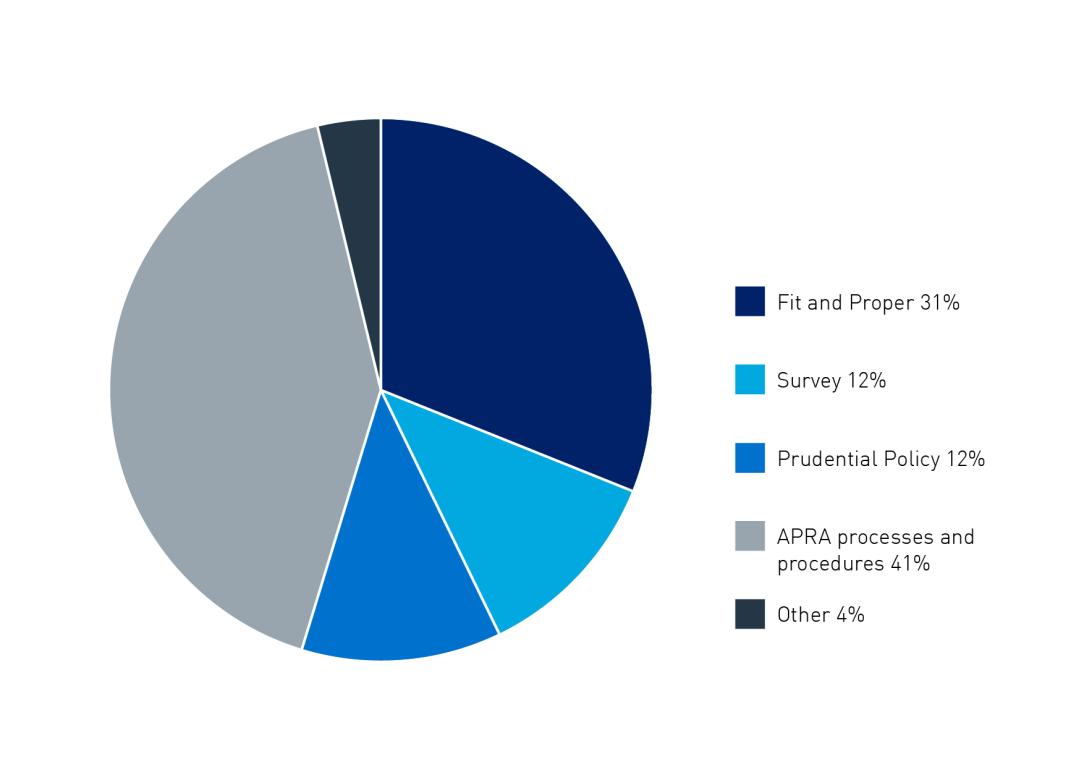 Looking ahead
APRA will continue to engage with peer regulators and other international bodies in 2019 as part of its commitment to better supervision, information-sharing, global standard-setting, technical assistance and training outcomes. Through this engagement, APRA will keep working towards supporting domestic financial sector resilience, strengthening regulation and supervision in the Asia-Pacific region and providing a strong Australian voice in global policy reform forums. Although APRA's international calendar for next year is still being finalised, APRA's level of global engagement is expected to remain at a level consistent with its 2018 activities.
Footnotes
[1] APRA has information-sharing arrangements with 32 overseas regulatory agencies through MoUs and letters of exchange. APRA is also one of 68 signatories to the International Association of Insurance Supervisors' multilateral MoU, which covers agencies supervising insurers that write more than 70 per cent of global premiums.